Ex-Mother in Law's Pork Chops With Cream of Mushroom
lazyme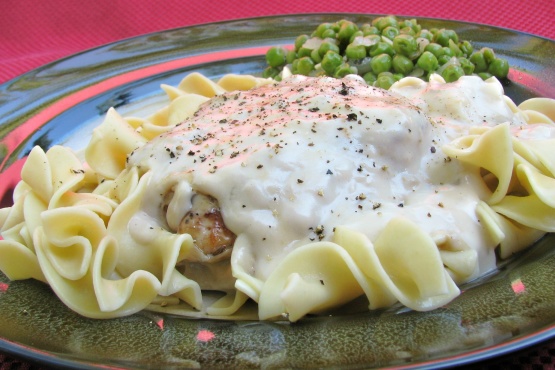 This was the one good memory I have of my first marriage- going to my ex-mother-in-law's and smelling this cooking! Of course, I begged for her recipe and have been making it regularly ever since. Her son was not a keeper for me, but her pork chops sure were! This recipe may be halved by using 4 pork chops, one can of soup, and two tablespoons of butter with the Lawry's seasoning.

I've been making a version of this for years. I cube the chops before browning. Then pour the soup over the top of the cubed chops, stir until the soup is creamy, then put a lid on the skillet and simmer for an hour, stirring occasionally. I serve mine with either egg noodles or mashed potatoes. Very tasty, simple recipe. As an addition, I've added a sqirt or two of spicy brown mustard to the soup, as well as a couple shakes of crushed rosemary. Givest it a little something extra flavorwise.
6 -8

pork loin chops

2

(10 3/4 ounce) cans cream of mushroom soup (buy the NAME brand, creamier-cheaper soups stay lumpy)
Lawry's Seasoned Salt
lawry seasoned pepper
1⁄4 cup butter
In skillet with melted butter,sprinkle both sides of pork chops with seasoned salt and seasoned pepper to taste and brown.
Put into 9 X 13 inch glass casserole and spoon mushroom soup (do not dilute!) and smear all over pork chops.
Cover and seal tightly with heavy aluminum foil and put into pre-heated 350 degree oven for 1 hour.
Remove foil last few minutes.
Serve over rice or noodles.
Yummmmm!