olga t.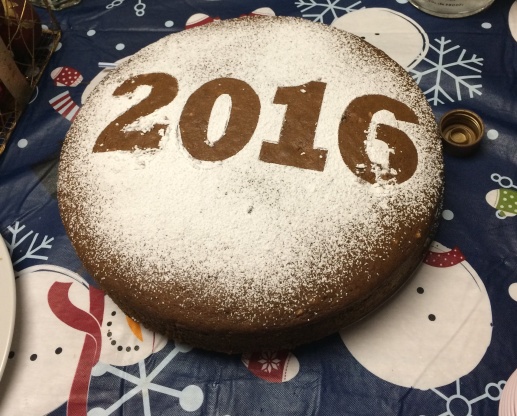 This year, I used my standard pound cake recipe and adapted it for Vasilopita. It is traditional to place a coin, signifying good luck and prosperity in the New Year, in the Vasilopita. Whoever finds it in their piece will be blessed! As I don't like my Vasilopita too sweet, I use a lesser amount of sugar in mine. Feel free to make it sweeter.

This was the first time that I used this recipe, having used another one from this site for quite a few years. My family loves pound cake, and the addition of the cognac and orange juice was so much like how my YiaYia used to make it. I subbed 8 ounces of the butter with I Can't Believe it's Not Butter, and used egg substitute for two of the eggs; I also subbed 1/4 tsp. of almond extract for the chopped nuts because no one in my family likes nuts in their cake, but the rest of the recipe remained unchanged. After an hour, I covered the cake with aluminum foil, and I would recommend that you check the cake after an hour and a half because the edges of mine began to brown quickly. I have to say that my family ate piece after piece, it was that good! This is definitley my new vasilopita recipe.
12

ounces butter, softened to room temperature (375 gr)

2

cups sugar
1 1⁄2 tablespoons vanilla extract
1 1⁄2 tablespoons baking powder

1

teaspoon salt

2

ounces cognac (I used 2 shot glasses, maybe more, I may have consumed the contents of a couple of those glasses mys) or 2 ounces Cointreau liqueur (I used 2 shot glasses, maybe more, I may have consumed the contents of a couple of those glasses mys) or 2 ounces drambuie (I used 2 shot glasses, maybe more, I may have consumed the contents of a couple of those glasses mys)
4 1⁄2 cups flour
3⁄4 cup buttermilk or 3⁄4 cup milk

1

large orange, juice and zest of
1 1⁄2 teaspoons baking soda

12

ounces mixed chopped toasted nuts (I use a combo of walnuts, almonds and hazelnuts)
Also will need: 1 coin washed and wrapped in aluminum foil.
Preheat oven to 350F (170C). Butter and flour a 12-inch round pan or springform pan generously.
Beat butter with sugar until light-coloured and fluffy, about 4-5 minutes.
Beat in vanilla extract, baking powder, salt, cognac (or other liquor of choice). Beat in eggs, one at a time, until incorporated.
Beat in flour on low speed, a cupful at a time, until incorporated. Towards the end, when the batter is starting to get very thick and you think your mixer is going to break down, add the buttermilk, orange juice (into which you stir the baking soda JUST before adding it to the batter - careful, it will foam up) and zest, alternately with the remaining flour, until everything is incorporated and distributed.
Add the nuts and incorporate.
Drop the foil-wrapped coin into the batter and empty the batter into your prepared pan.
Bake for anywhere from 1 1/2 hours to 1 hour and 45 minutes (approximately). Cover cake pan loosely with a piece of foil if cake is browning too fast. Do the toothpick test to ensure the cake has baked.
Remove, allow to cool 1/2 an hour and turn out of pan. Cool completely and place on your prettiest platter.
Dust with icing sugar to resemble snow. Decorate with coloured sugars, pine cones, red and gold ribbons - anything to give it a pretty, festive air.
Bring in the New Year with much Good Health, Love, Happiness, and Prosperity.
Hronia sas polla. :-).