Peter J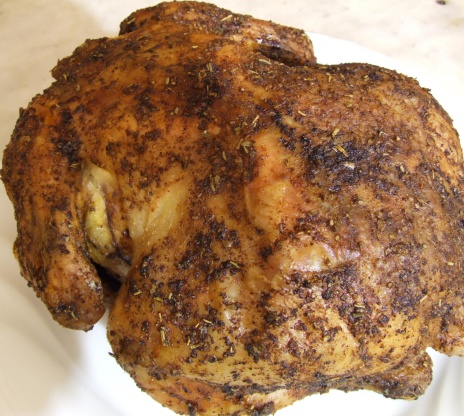 For all of you familiar with Mimi's Sticky Chicken, the technique in this recipe will ring a bell. It is a great way to roast a yummy bird when you have to be away from home for a while. This is my rendition.

The seasoning mixture in this recipe is "spot on". Instead of using regular paprika, I used Spanish smoked paprika (also known as sweet smoked paprika and pimenton), which added another dimension of flavor. I only had garlic and onion powders on hand, so I used them instead of fresh or granules. At home during the cooking time, I was surprised by how each ingredient's fragrance filled the kitchen at different times. I was also surprised by the amount of liquid and fat that rendered out of the chicken, and was glad I had cooked it in a 9x13 pan. The end result was moist, succulent and delicious, and I really appreciated the ease of preparation. There were leftovers, so I found that most of what rendered from the chicken were juices which jellied when refrigerated and which made it easy to remove the TBSP of fat that remained. Thank you for sharing your creation, Ev!
Combine all seasoning ingredients into a paste or zap together in a little blender.
Wash chicken and pat dry.
Rub inside and out with this paste and put in a ziploc bag to marinate overnight (mine marinated a total of about 15 hours).
Preheat oven to 125 Centrigrade (250 fahrenheit).
Place chicken in pan, breast side down and roast (not exactly the word!) for 5 hours.
If you like, turn breast side up to crisp skin for last 45 minutes.
I didn't baste this at all as I was away from home all the time it was cooking.
It was juicy and tender!