Evonne's Chocolate Cake With Fudge Frosting
TGirl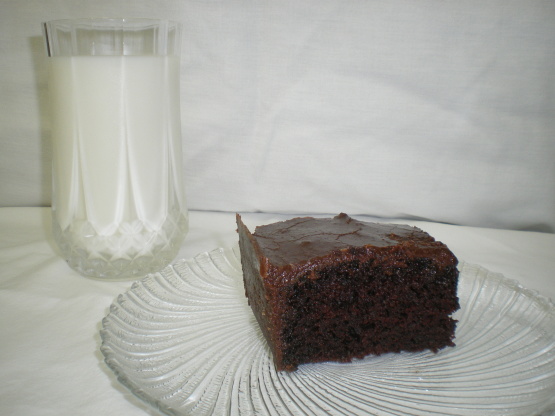 My children's favorite chocolate cake. The frosting is absolutely wonderful. I like this cake because I always have the ingredients on hand and you only dirty one pan for the cake and one for the frosting.

Top Review by TGirl
What a great cake! And so incredibly easy to throw together. This recipe gives you a perfectly moist cake, the texture is wonderful, and the flavor is splendid. The icing is delicious and again, easy to make. I followed the recipe as written, but I had to stir it a few times more than the 50 recommended (but I understand that the number is probably more like a guideline to prevent/avoid overmixing, which tends to result in tougher cakes). Baking time was exactly right at 45 minutes.
I would highly recommend this recipe to any and everyone, and my entire family has already told me that I had better not lose the recipe, as they fully expect me to make this cake again--that's about the highest praise and best recommendation any recipe can get...Thanks for sharing!! (I'll try to get a photo up if I can!)
Preheat oven to 325.
Sift dry ingredients into 9x13 inch cake pan. Make 3 dents, put the vegetable oil in one, vanilla in another and vinegar in the third. Pour two cups water over all of it and stir 50 times.
Bake for 45 minutes.
When mostly cooled, make the frosting.
For the frosting:.
In a small saucepan, combine sugar, butter and milk. Boil - stirring constantly for 1 minute ONLY. Remove from heat and stir in chocolate chips until smooth.
Pour over slightly warm cake.
NOTES: I always use a clear Pyrex cake pan to make sure all the dry ingredients are fully incorporated.
There is no need to spread the frosting over the cake, it will smooth itself out.