Everything " Sauce " for Baked Potatoes
lazyme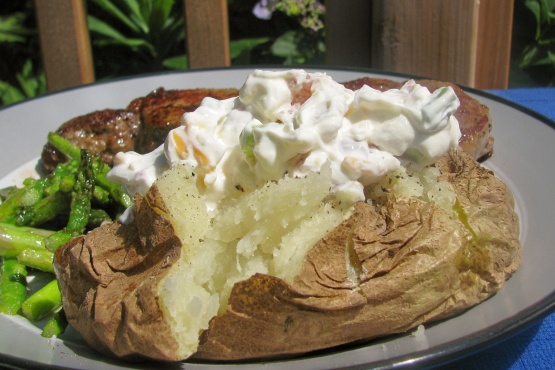 I got so tired of crowding the table with toppings for baked potatoes that I decided to premix them, using our favorites. The "fat-ness" of the sour cream, butter/margarine & cheese can vary according to my whim. Use herbed sour cream dips to suit your fancy. This is my one-handed response to "please pass me the sour cream, butter, cheese, chives and bacon bits" while I continue eating with the other hand. ;-)
Mix sour cream, melted butter & cheddar cheese together and refrigerate. (This will keep at least a week - I've tried it.).
When ready to serve, let the mixture warm up on the counter for an hour or so (while you bake the spuds)then add green onions & crisp crumbled bacon.
Spoon over hot, baked potatoes.
Serving size = 1 tablespoon.