This is quite strong with the smaller ratio of oil, so might want more oil. It is delicious though- on potatoes, salad, cooked vegetables, creamy pastas, and sandwiches! The nutritional yeast makes it so thick and adds a certain hint of almost-cheesiness. (My best friend, Kylie, invented this- that's why, personally, I call it Kylie dressing! :-)
Directions
Combine the ingredients and either or both or neither options in a tightly-sealable jar. Shake well before serving, and refrigerate.
Use up within a few days.
Most Helpful
This is good. I used olive oil and nutritional yeast and served it over sliced cucumbers. I think I'll try it with garlic next time.
Delicious! I made it with tahini, though if I had nutritional yeast I would have used that, as it's less caloric. Instead of flax seed oil which I didn't have I used a light sesame oil. I added this to a romaine, tomato and carrot salad alongside of White Rose Child's Tahini Pasta. Thanks!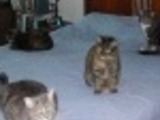 I loved this too! I used Bragg's, and nutritional yeast. I ended up adding a little olive oil and a little more nutritional yeast. I also added a tsp. of honey. It was so good! Thanks!