mianbao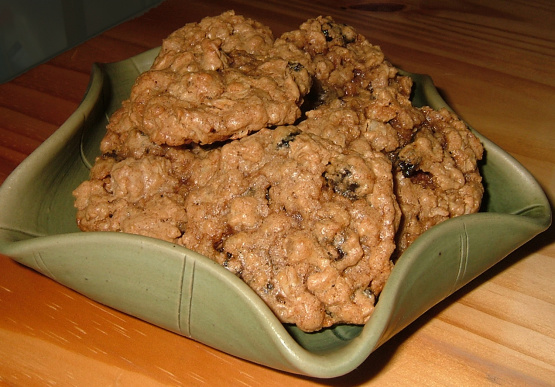 This oatmeal cookie recipe is one of my favorites. Easy to make in a jiffy. I make them larger and wrap in cello with some decorations and a nice ribbon for a little gift to take to a friend.

These are delicious! They are nicely spiced and a little chewy - just like I like them. I made them rather smaller, because my oven won't handle large amounts. I also added about 1/4 cup finely chopped candied ginger, which seems to have been a very good idea. I used walnuts this time because I was out of pecans, and chopped them fairly coarsely. I didn't need to use a flour coated spoon to flatten them because the dough was quite stiff. (I think my eggs may have been slightly small.) Because the dough was stiff, I mixed in the last of the flour and walnuts and raisins by hand. It seems to have worked, and I am very happy with the recipe. Thank you for sharing it with us. Oh, and I used old-fashioned oatmeal.
Preheat oven to 325 degrees.
Beat butter, white sugar and brown sugar until creamed in a large bowl.
Beat in the eggs, one at the time, then add the vanilla.
In a medium-sized bowl, combine flour, salt, baking soda, nutmeg and cinnamon.
Add to the butter-sugar mix and combine well.
Stir in the oatmeal, raisins and pecans until well combined.
Drop by a heaping tablespoon 2 inches apart onto ungreased cookie sheet, and flatten with a floured fork.
Bake 10 minutes or until golden brown without burning them. Cool slightly on cookie sheet until set, then cool on a wire rack.