kfwhaley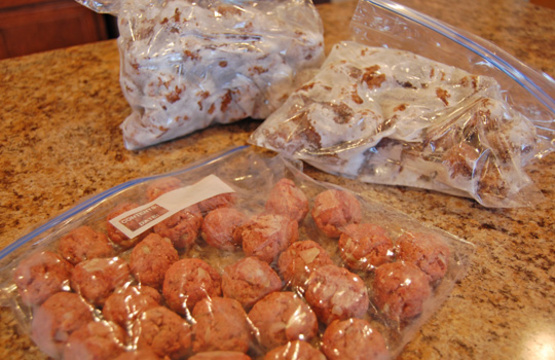 Once cooled, freeze meatballs in a ziplock freezer bag. Squeeze out all remaining air and seal. Make sure to date and label. (Note: Freeze in bag/number size of your choice for easy thawing). To thaw place the bag of meatballs in the refrigerator in the morning and they will be thawed by dinnertime. The frozen meatballs can also be put directly into your sauce and simmer for 15 to 20 minutes.
Preheat oven to 350.
In a mixing bowl, combine meat, onion soup mix, garlic, egg, basil and parsley with ½ cup of breadcrumbs and mix.
Add another ½ cup of breadcrumbs, contining to combine the ingredients.
Mixture to be wet but not sticking to touch. More breadcrumbs can be added if the mix feels too watery or wet.
Once mixture is integrated, roll mix into medium sized balls.
Place meatballs onto a lightly sprayed (recommend olive oil) cookie sheet.
Bake for 15-20 minutes, until meatballs brown and begin to crisp.
Remove from heat and allow to cool.
Place cool meatballs in a ziplock freezer bag.