Everyday French Breakfast- Baguette and Jam With Chocolate Milk
Sara 76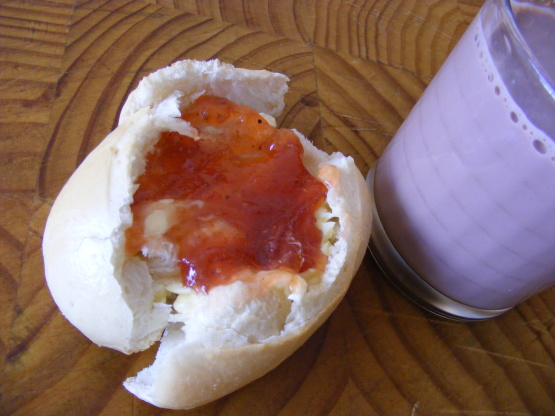 I lived in Paris for 4 months and in Valladolid, Spain for 6 months as a student and in both cities, the traditional everyday breakfast was this (although some adults have black coffee rather than chocolate milk!). In Spain I lived with a local family and everyone had a variation of this breakfast each day. It really hits the spot and with some fruit it is a well-balanced breakfast. This is a great way for kids to have fun learning about other parts of the world and works well with a class of schoolchildren. I haven't specified amounts for the toppings as that's all down to personal taste.

I used a homemade baguette Recipe #457974 and black raspberry jam. Ah, bistro heaven!
If possible, buy a french stick that is part-baked so you can bake it at home for that truly fresh texture.
Cut the french stick in half vertically, then halve each part horizontally.
Spread a thin layer of butter over each piece of bread, then top with strawberry jam.
Serve with a glass of chocolate milk, or if you want to have a really authentic breakfast, pour the chocolate milk into a bowl and dunk the bread and jam before savouring each bite!