Evelina's Exchange Blintze
Jonesyx6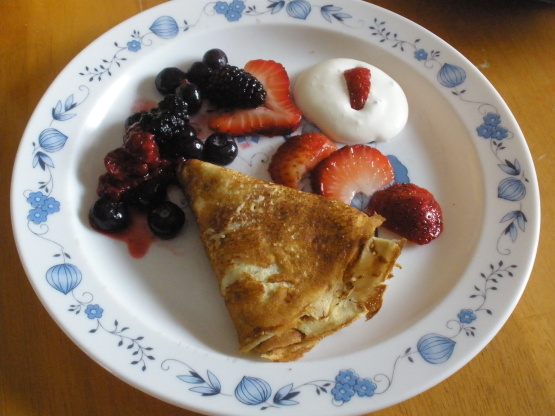 This is a recipe that is for Russian Blintze. I wanted to make blintze for my Russian foreign exchange student, Evelina, using Grandma Reilkoff's Authentic Russian Blintze but Evelina (who claims she does not know how to cook) tweaked it into something else. So here is a Russian recipe that my lovely exchange daughter learned to make in America! Note: Cooking time is per blintze
1

cup milk

1

tablespoon vinegar

3

eggs
1⁄2 cup flour

2

tablespoons sugar

1

teaspoon vanilla

1

pinch salt

2

tablespoons oil
fruit (optional)
whipped cream (optional)
nutella (optional)
Add the vinegar to the milk to sour it. Leave it sit for about 10 minutes, until it begins to curdle.
Add sour milk to all other ingredients.
The batter will be VERY runny.
Heat a non-stick skillet to medium heat. (Not hot enough to smoke).
Pour 1/4 cup of batter into the pan. When bubbles form and pop, turn over. Let cook another couple of minutes (peek under to see that it is light brown).
Serve with whipped cream, fruit, sausages, nutella, whatever you choose. Evelina says it is traditionally eaten with your hands.