Evan's Peppered Turkey Wrap
~Nimz~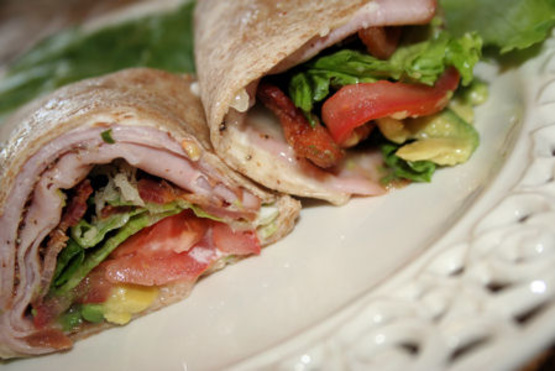 This is an original recipe that my husband, Evan, created. He uses "Flat Out" brand wraps which makes a big sandwich. We cut in half to serve 2, but our growing son eats a whole one.

Top Review by ~Nimz~
We really enjoyed this wonderful wrap. I could not find the peppered turkey, but be I did add a generous portion of fresh ground pepper to the meat. After adding the cheese I popped it into the microwave for 30 seconds to melt it some, then stayed with the remaining recipe. Very large wrap and messy to eat, but so worth it. Loved the flavor the sweet honey mustard gave to the mixture. Thanks. Made for My Three Chefs summer 08
honey mustard

2 -3

slices peppered turkey

1

slice swiss cheese

2

slices cooked bacon
sliced tomatoes

1

slice thin roasted red pepper (1/4 inch)

2 -3

slices avocados (1/4 inch)
Spread mayonnaise and honey mustard on wrap.
Place peppered turkey down 3/4 of wrap.
Divide Swiss cheese to cover wrap.
Place bacon slices over Swiss cheese.
Cover with lettuce, sliced tomato, sliced roasted red pepper, sliced avacado.
Wrap.