Izy Hossack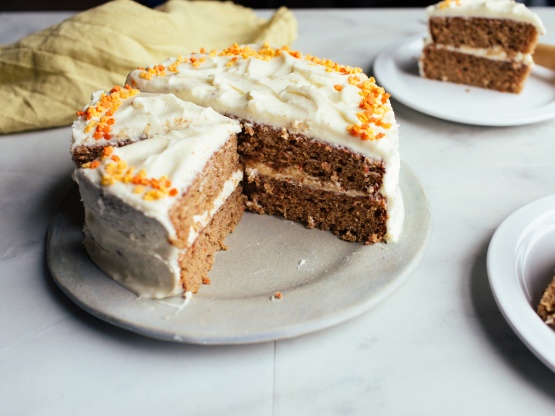 Top Review by k r.
I have made this a few times and it is very easy and very good. I add a cup of finely chopped walnuts and half a cup of raisins as well as 1/4 tsp nutmeg. My batter seems to be a bit too wet so I add about 1/4 cup more flour. I used a bundt pan today and baked it for an hour and fifteen minutes at 325. Turned out perfect! Now to put on some cream cheese frosting...yummy!
**To make burnt sugar, cook sugar in a small skillet over medium heat until it carmelizes; pour immediately into batter.
Combine oil and sugar in a large mixing bowl.
Sift dry ingredients together in another bowl and add half to oil and sugar.
Add eggs, one at a time, alternating with the remaining dry ingredients.
Stir in carrots, flavorings and nuts.
Pour into a greased 9 x 13 pan.
Bake at 325°F for approximately 1 hour.
Cool and frost.