Etta's Crab Cakes (Tom Douglas)
BarbryT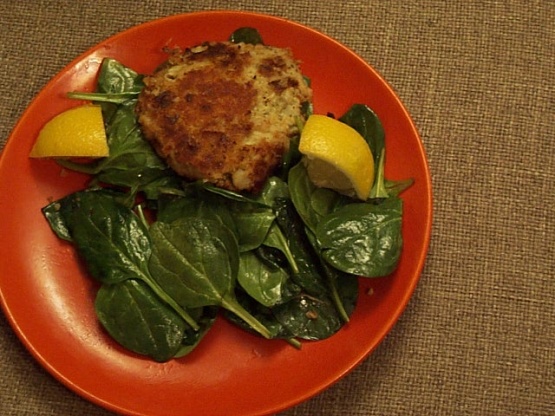 Living in Seattle, and having eaten these at Etta's, I can attest that Etta's Crab Cakes are superb. They are included in "I Love Crab Cakes: 50 Recipes for an American Classic" by Tom Douglas with Shelley Lance and have been "rereleased" (so to speak) on numerous other websites. One hour of the estimated preparation time is chilling time. Timing is based on buying (admittedly pricey)Dungeness crab meat. If buying cooked crabs and planning to extract crab meat yourself, add at least an hour.

Top Review by Seniah
This recipe made two hours of picking crabs (blue crabs from the Connecticut River) completely worth every minute, Heavenly bites!!! In reading through the recipe I was surprised to see that no breadcrumbs are mixed in with the crab before forming the crabcakes. I compared this recipe with another Tom Douglas recipe where he mixes in 1 cup of the crumb mixture. Possibly a typo? In any case, folding in one cup of the crumb mixture meant the cakes hold together, no problem. Our new favorite recipe for crabcakes
In a small food processor, combine egg yolk, vinegar, mustard, bell pepper, onion, parsley, Tabasco, paprika, thyme, salt and pepper.
Pulse to mince the vegetables and combine the ingredients.
With motor running, slowly add oil through the feed tube until the mixture emulsifies and forms a thin mayonnaise.
Transfer mayonnaise mixture to a large bowl and stir in sour cream, then carefully fold in crabmeat.
Gently form into 8 crabcakes, about 3 inches across and ¾-inch thick.
Put the fresh bread crumbs in a shallow container and stir in parsley.
Lightly dredge the crab cakes on both sides in the bread crumbs.
Chill for at least 1 hour (preferably longer).
Put 2 large nonstick skillets over medium heat and add about 2 tablespoons butter to each pan. When butter is melted, add 4 cakes to each pan.
Gently fry until golden brown on both sides and hot through, turning once with a spatula, about 4 minutes on each side.
Depending on appetites, suggest service of two crab cakes per serving, with lemon wedges.