Prep 15 mins
Cook 20 mins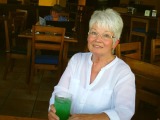 One of my favorites, a quick Italian soup. Recipe is by PAH on Mimi's Cyber Kitchen.
Directions
Heat olive oil in heavy 4 quart sauce pan.
Cut sausage into 1/2 inch pieces.
Brown sausage in pan until no longer pink.
Add onion and garlic and stir until softened.
Add spinach, chicken broth, diced tomatoes, beans and red pepper.
Heat to a boil and simmer for 15-20 minutes.
Ladle into bowls and sprinkle with parmesan cheese.
Most Helpful
Easy, fast, delicious and healthy. I LOVE IT! I used chicken sausage and added an additional can of cannellini beans because my daughter loves beans. I added the spinach at the end of the cooking time, just before I turned off the heat so that they would be bright green. The soup tasted delicious. My 10 year old loves it. THANK YOU.
This is a WONDERFUL and HEARTY and SIMPLE soup. I chose it for my husband who loves italian sausage and spinach. I usually hate italian sausage and cooked spinach but ended up LOVING this even more than him! I couldn't believe how EASY it was and how FLAVORFUL it turned out! I had to use navy beans but everything else the same. I drained the oil and grease after cooking the sausage. I also added the onions first and the garlic when they were almost done. Next time I will also wait to add the spinach until the last few minutes so it is barely cooked and still bright green. This time I put extra fresh baby spinach leaves in the bottom of the soup bowls and the hot soup over them and the parmesan cheese is the perfect compliment to it all. I would like to try this with italian meatballs instead of sausage next time. Thanks for this recipe! Made for PAC Spring 2007.

This is my recipe and thank you for giving me credit (PAH). Many years ago I created it and won $500 for the recipe and it appeared on the cover of Taste of Home's Cooking School magazine. I still make it and love that so many are enjoying my recipe.