Ethné De Vienne's Indian-Style Potatoes
Annacia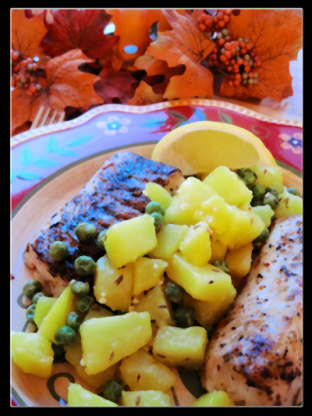 A recipe from Ethné de Vienne with Ricardo. Posted for ZWT8 India

This recipe gets highest scores for amazing flavor. I somehow forgot the ginger that was ready and waiting and it was still flavor packed. I did double the turmeric in the cooking water because the original amount wasn't coloring the potatoes much at all and that may have added to the great flavor also. It really very simple and easy. I would add the peas just a few seconds before draining the spuds as they over cooked for my taste. Still 5 stars for a delicious, easy, recipe. Made for Photo Tag.
In a pot of salted water, cook the potatoes with the turmeric until tender, about 10 to 12 minutes. Add the peas 2 minutes before the end of cooking the potatoes. Drain. Do not rinse.
In a large preheated skillet or wok, cook the Panch Phoron or cumin in the ghee for few seconds. Add the garlic, ginger, and pepper flakes and sauté for about 15 seconds. Add the potatoes and peas and cook for about 2 minutes, stirring continuously. Season with salt and pepper.
Remove from the heat and stir in the cilantro and lemon juice, to taste.