Chilicat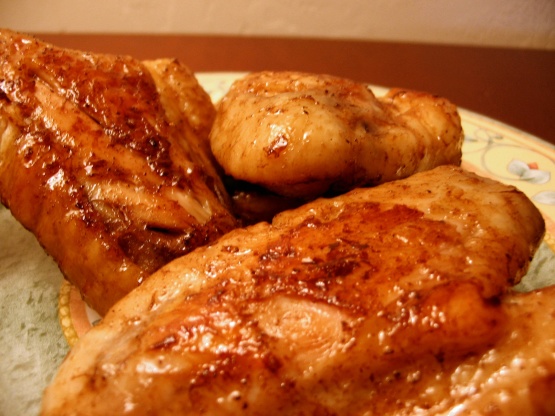 I adapted this from a recipe I found on the allrecipes site. It makes a mildly spiced wing that's fall-apart tender and also leaves you with a pot of chicken broth that can be used in other recipes. I changed the ingredients to specify a mild soy sauce based on CulinaryQueen's comments.
Place chicken wings and onion in a soup pot, and fill with enough water to cover. Bring to a boil and cook for 20 minutes.
Preheat the oven to 375 degrees F (190 degrees C). While the wings are cooking, combine the soy sauce, cinnamon, cloves and ginger in a saucepan, and warm over medium heat. When chicken is done, drain water (may be reserved for other uses as a broth), and pour in the soy sauce mixture. Stir to coat all of the wings, then place them in a single layer on a cookie sheet.
Bake for 15 minutes in the preheated oven, or until the outsides are crispy. Baste with sauce as desired while cooking. Hint: Bake on parchment paper or non-stick foil to keep the wings from sticking and to make clean-up easy. The side of the wing facing the baking sheet will get the crispiest.