Ethel's Honey-Mustard Chicken
ByNDii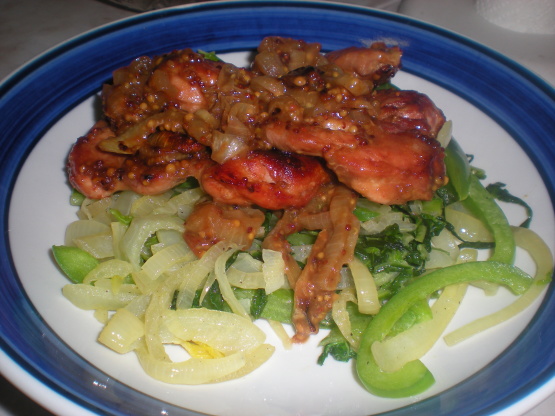 Ethel was one of our women in our Sewing Bee, she passed away recently, she was a young 93. I made this chicken dish to take to the dinner following her memorial service. She gave this to me years ago. Easy to make, and very tasty. We usually throw a few potatoes into the oven before starting the dish, and cook some tiny garden peas at the end.

I doubled this and bake it in the croc pot - amazing!! I cooked it for 4 hours on high and thickened the sauce with corn flour and water. I did use dijon mustard (all I had on hand) served with rice. thanks for posting and what a lovely story that goes with this recipe.
Arrange chicken in baking dish.
Put chopped onion over chicken.
Mix remaining ingredients and pour over chicken.
Bake at 350 degrees for about 1 hour.
Serve.