Estonian Milk Soup With Pasta Shapes (Makaroni-Piimasupp)
Nif_H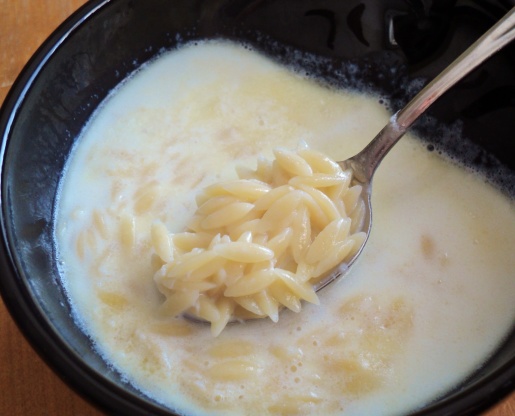 A version of this soup is probably made in many areas with a strong agricultural heritage. My own mother made something very similar, but with "leistinukai" (like spaetzle) instead of pasta. This is a simple but comforting soup. From the wonderful Pille and her blog, nami-nami.
500

ml water (2 cups)

1

teaspoon salt

100

g short pasta (1 cup)

750

ml whole milk (3 cups)

1

generous pinch sugar

1

tablespoon butter
Bring the water to a vigorous boil, add the salt and the pasta. Reduce to a simmer, then cook for 5 to 7 minutes, or until the pasta is al dente.
Add the milk, stir and cook for a few minutes longer, until the milk is hot and the pasta is fully cooked.
Season with the sugar and more salt, if necessary. Stir in the butter and serve.