Cynna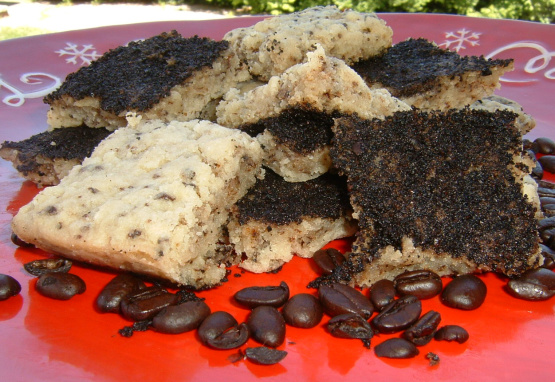 From the show Party Line with Dan and Steve, these have gotten rave reviews! A Spanish touch to the Scottish shortbread! Spanish, British, New England

Top Review by Cynna
I used instant coffee granules in place of espresso powder and I used just regular dark roast coffee beans, coarsely ground as the topping. I also used vanilla sugar in place of the regular sugar for an extra added touch. These are amazing. I knew I couldn't lose with this recipe because I'm a big fan of both shortbread and coffee. FANTASTIC flavor! Thanks for sharing this!!!
Preheat the oven to 350 degrees F.
First, cream the butter and sugar together until it's light and fluffy. Add vanilla extract and mix for about 30 seconds. Then add the flour and espresso powder and mix until dough is smooth, about 1 minute.
Spray a 9"x9" pan with cooking spray and scatter the ground espresso across the bottom of the pan. Gently press dough evenly into the espresso covered pan. Place pan into the top part of the oven and bake until shortbread is set, about 17 to 20 minutes. Remove from oven and let cool about 15 minutes.
Using a sharp knife, score the top of the still warm short bread. Cut in 2" squares(or how you like). Run a butter knife around the edge of the pan and invert onto a cutting board. Give a sharp rap and the shortbread will release from the pan. Let it cool aobut 10 more minutes and slice along the scored lines. Enjoy!