Espresso Chocolate Chip Muffins
Annacia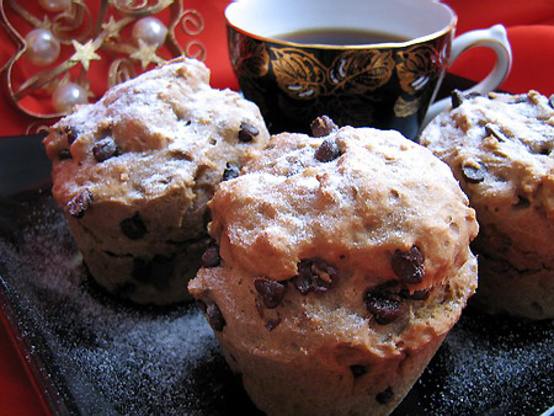 From the cookbook Celebrate the Rain. Will try soon!

I love the taste and the rise that these muffins give. I used the full amount of espresso powder and some extra sour cream (about 2 tbsp) because the batter was very thick and heavy. I skipped the topping for diabetic reasons and just lightly sprinkled the tops with a tsp of sugar. I used fat free sour cream and Splenda for the sugar. The coffee flavor is well noticed without being too strong. Made for Photo Tag.
Preheat the oven to 375 degrees. Prepare a 12-cup muffin tin by either lining the cups with paper liners or greasing them well.
For the topping, stir together the brown sugar and flour in a small bowl. Using your fingers or the back of a fork, work in the butter until the mixture has a crumbly texture. Set aside.
In the bowl of an electric mixer, beat the butter until light and fluffy. Gradually add the sugar and beat until well blended. Sift together the flour, baking powder, baking soda, and salt into a large bowl. In a separate bowl, whisk together the sour cream, eggs, espresso, and vanilla. Add the dry ingredients to the butter, alternating with the liquid in 3 batches, ending with the liquid ingredients. Use a wooden spoon to stir in the chocolate chips.
Fill the muffin cups 3/4 full with batter and sprinkle with the topping. Bake until a toothpick inserted in the center of a muffin comes out clean, 15 to 18 minutes. Turn the muffins out onto a wire rack to cool slightly, then serve warm.