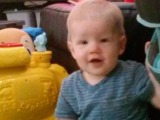 This recipe can be found on the Kahlua website. It looks very tasty, even though I don't drink martini's. I am going to try this one out on some of my dinner guests this weekend.
Directions
Mix all ingredients together and pour into a very chilled Martini glass.
Garnish with an olive.
Enjoy.
Reviews
Most Helpful
I don't usually like drinks that are basically dont have any mix added but this is so smooth. I added all the ingredients into a cocktail shaker with some ice and gave it a shake. The thought of using an olive made me feel a bit ill with a sweetish drink so I used cherries. I also used Coffee Liqueur to make the " Kahlua"Made for Comfort Cafe Jan 2009