Boomette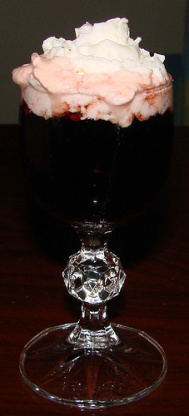 Pony glass is called for this layered shot. It is a small stemmed glass with a rounded bottom and fluted top, they hold about the same amount of liquid as a shot glass.
It has a great taste. I used dark creme de cacao instead of chocolate liqueur. I wasn't able to see the different layers. It doesn't bother. It was still good. My photo is not the best. My bf told me after I should have put some light behind it. Made for ZWT 3
3⁄4 ounce chocolate liqueur (Swiss Chocolate Almond)
3⁄4 ounce cherry brandy
3⁄4 ounce Amaretto
whipped cream
Layer each of these into a Pony glass in the order given.
The secret is to pour slowly, barely dribble the liqueurs into your glass.
Start with your first liqueur and pour it into your glass, now take your spoon and place the tip of the spoon very close to your first liqueur, now carefully and slowly pour in your second liqueur over the back of the spoon and into the glass, then your third.
Top with whipped cream.