Escarole With Garlic and Bread Crumbs
Lorac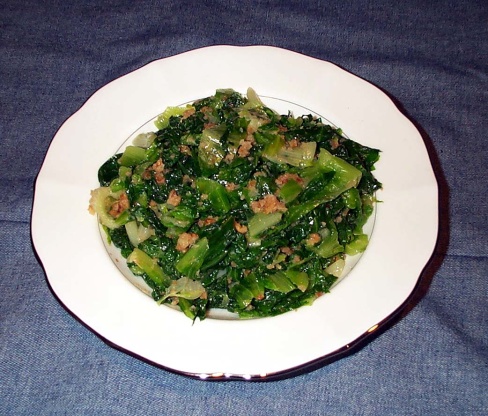 Escarole is a bitter green and we love it sauteed with fresh garlic. A quick blanching keeps it bright green and tames some of it's bitterness. I found this version in "The North End Italian Cookbook". Fried bread crumbs and a few red pepper flakes makes this dish fantastic.

I wasn't too pleased with the texture of the escarole after blanching. Even only blanching for two minutes and plunging in cold water to stop the cooking, it was too soggy. Next time I would skip the blanching, even though it did eliminate the bitterness.
2

lbs escarole

2

tablespoons olive oil

2

tablespoons vegetable oil

3 -4

cloves garlic, chopped
1⁄4 cup breadcrumbs
salt and pepper
Bring a large pot of water to a boil.
Coarsely chop the escarole.
Add to water, cook 2 minutes, drain, rinse with cold water and drain again.
Heat oil in a heavy skillet, add garlic and red pepper flakes and cook over medium heat until garlic is browned.
Add bread crumbs and cook until browned.
Turn heat to high, add escarole, season with salt and pepper, stir and toss until heated through.
Place in a serving bowl and pour any oil left in the pan over the escarole.