Escargots in Herbed Cream
Zurie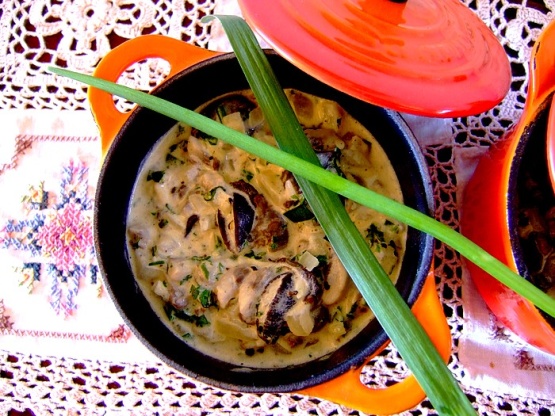 To some, this will be "one of Zurie's crazy recipes". but really, this was totally gorgeous, if you are a snail/escargot fan!! It has to be eaten with some kind of delicious bread roll or French bread. I apologise for giving amounts for 2 persons only, but the recipe is easily doubled (2 cans of escargots!). Do start this meal with a pretty salad containing cheese such as camembert. It's my own recipe. Note that the ingredients are ordinary.
4 -6

tablespoons creme fraiche (or sour cream)

5 -6

mushrooms, white, fat, finely chopped

1

small onion, finely chopped

7

ounces escargot (canned, undrained, 200g)

2

tablespoons parsley, finely chopped

2

tablespoons chervil, finely chopped (optional)

2

tablespoons chives, finely chopped

2

teaspoons garlic, finely chopped (or to taste, but use a lot)

1

tablespoon butter
good pinch flaked sea salt
1⁄2 teaspoon coarse black pepper
Put the crème fraiche, finely chopped mushrooms and finely chopped small onion in a pot. Heat on high until it starts bubbling. Stir well, fairly often, and then turn heat down a little.
Cook that about 10 minutes, when the onion should be soft, the mushrooms cooked, and the cream sauce reduced.
In the meantime, open the can of escargots and rinse them in a sieve, and shake them to dry a little. You've also chopped the herbs.
Now add the escargots, herbs, garlic, butter, salt and pepper to the pot.
Stir through, and simmer for about 2 minutes until the escargots/snails are heated through.
I like to serve this in individual ramekins, with a nice bread roll or French bread, or freshly made bread. And it can stand waiting in a warming oven.