Escargots Aux Champignons
teresas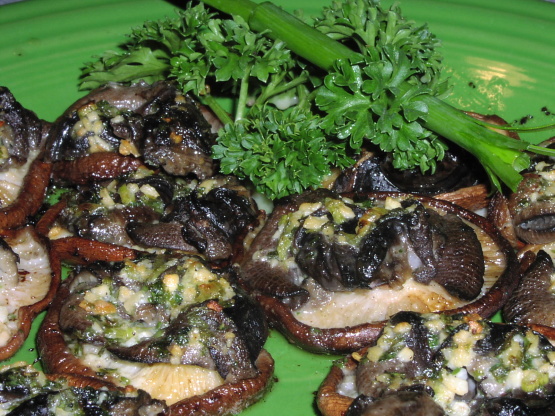 This is from the menu of the Court of Two Sisters, a charming restaurant on Royal Street in the French Quarter of New Orleans. In the same location, two sisters really did run a shop from 1886 until they died within 2 months of each other in 1924. The property has been operated as a restaurant since 1963.

I loved this recipe. However, I made garlic butter to put on the bread, added fresh basil, a slice of roma tomato, and julianned mozzeralla cheese. I sauted the mushrooms in white wine, for just a couple of minutes. After the oven, I drizzled the sauce over them. Big hit!
Pre-heat the broiler.
Cream the softened butter with all the rest of the ingredients, except the mushrooms and snails.
Remove the stems from the mushrooms caps (reserve for other use).
Stuff each mushroom cap with a snail.
Cover each snail with a spoonful of the butter mixture.
Broil stuffed mushrooms for six to eight minutes.