Prep 10 mins
Cook 30 mins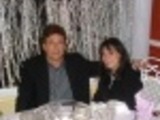 Similar to Eggplant Parmigiana, but a little lighter and less saucier, and is more suitable as a side dish.
Directions
Preheat oven to 450 degrees.
On medium-size ovenproof platter, arrange eggplant slices, then tomato and onion slices. Drizzle with 1/4 cup melted butter. Sprinkle with salt and basil. Bake, covered, 20 minutes.
Cut mozzarella slices in thirds; arrange over top. Stir crumbs into rest of melted butter; sprinkle over top; then sprinkle with Parmesan cheese.
Bake, uncovered, 10 minutes, or until cheese is bubbly.
Most Helpful
This is so easy and great for an eggplant amateur! My teenage sons liked it, and said it was better than peas. A pretty dish as well.