La Marz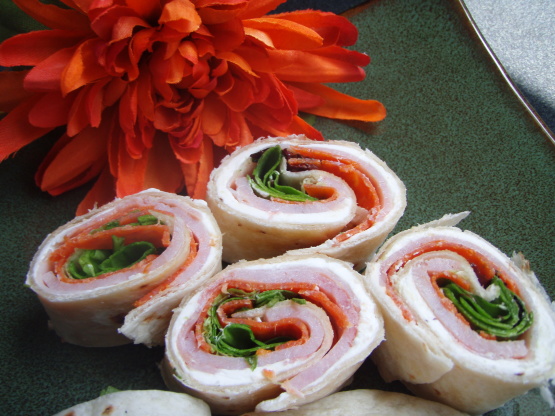 This is not sushi at all, but when I decided to serve this for lunch to my 3½ year-old, that's the name we gave to this easy recipe. My boy always wants a PB&J sandwich for lunch, even though he is not picky at all, but this made him change his mind! You can use wrap tortillas, but I used regular flour tortillas. The amount of cream cheese depends on you, this is just an estimate.

Cute idea! You can really do this with almost anything. I may try it with smokes salmon and add capers. ;)
59.16

ml cream cheese

2

slice ham

12

pepperoni slices

113.39

g mixed salad greens
I spread half of the cream cheese onto each tortilla, cut up (roughly) the ham, and put one slice on each wrap. pepperoni slices over the ham, a bunch of greens, rolled up the tortilla.
Sliced the wraps, like pinwheels, and you have you Sushi Wrap.