Erin's Pumpkin Chocolate Chip Cookies
JillQH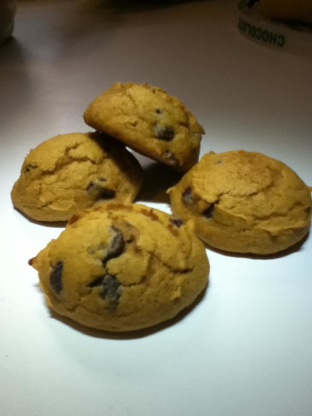 Our family "adopts" many new people as they enter our lives through the military, college, work, etc. I always ask them to bring a "family tradition" dish with them when they attend holiday meals and then we incorporate their traditions with ours. I have gathered many favorites over the years by doing this and there is a fond memory attached to each recipe. This cookie came from a college friend of my cousin Jane. It is simple in flavor (not too sweet) and is like a cake cookie.

Top Review by JillQH
These cookies are super easy to make. I was surprised (even after everyone else's comments) at how light and fluffy these cookies were. They truly are like muffin tops rather than cookies. They hold shape while baking, which I wasn't expecting either (which was quite nice). They aren't super sweet, so I may decide to make a little powdered sugar/water drizzle over the top for a decorative glaze, just to add some depth to the flavor.
Preheat oven to 375 degrees.
In a large mixing bowl, cream together sugar and shortening.
Add pumpkin and egg and mix again.
In a small mixing bowl combine flour, baking powder and cinnamon.
In a condiment bowl or small cup, dissolve baking soda into milk.
Add baking soda mixture to dry ingredients and blend.
Slowly add dry ingredients into the wet, add vanilla, and mix well.
Fold in chocolate chips.
Drop by heaping teaspoons onto cookie sheet.
I line the sheet with parchment paper.
Bake for 8-10 minutes until slightly golden around bottom edges.
This makes a small batch (I am guessing about 4 dozen) I often double the recipe with no problem!