Enticing Azul Bebida (Cocktail)
Boomette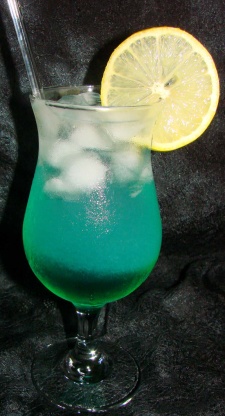 While chatting with a friend about our dream of being on a tropical island drinking tropical drinks (who doesn't dream of that), we decided to try our hand at Tropical Drink Making! This one is perfect. The color reminds you of the beautiful blue Caribbean waters and the taste is fruity crisp and yes, "tropical". ENJOY!

Mmmm! This drink has the perfect blend of tart and sweetness. Definitely reminds you of those clear caribbean waters. Definitely a refreshing summertime drink.
In large wine glass or cocktail glass pour limoncello and curacao over ice.
Squeeze the juice of 1/2 lemon into glass.
Add club soda to fill to the top (approx 3 oz).
Stir well. Garnish and enjoy! Pura Vida!