gailanng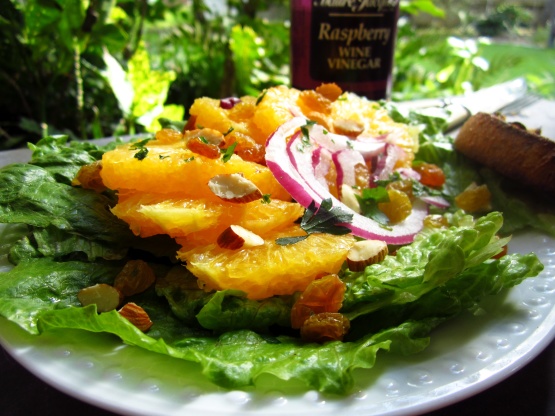 SPANISH TAPAS RECIPE: This recipe is from an old newspaper clipping which said the recipe is from a tasca (tapas bar) in Madrid, Espana and is featured in many tapas bar throughout Spain.
Remove the white pith from the oranges and cut the fruit crosswise into 1/4 inch slices. Arrange on a serving platter and scatter over the sliced red onion.
In a small bowl, whisk together the vinegar, olive oil, salt, and pepper. Spoon this dressing over the onion and oranges.
Sprinkle with the raisins, olives, sunflower seeds, and almonds. Garnish with parsley and serve chilled.