Ensalada De Manzanas Con Manchego
Nif_H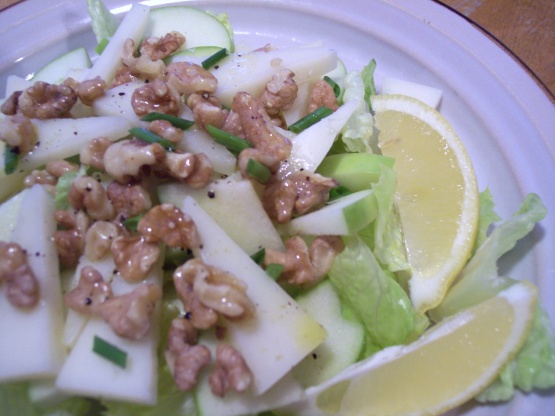 From Tapas: A Taste of Spain in America by José Andrés of Jaleo restaurant in Washington, DC as posted on foldedspace.com with a few changes on my part. I substituted manchego for murcia al vino (also known as Drunken Goat because it is aged in red wine). Any specialty store will carry manchego as does Trader Joe's. If you can find murcia cheese, that can be used instead of course.

Yum, the granny smith apple, walnut and manchego made a delightful combination. Made for ZWT 8 for The Fearless.
Toast the walnuts in a cast iron skillet until lightly toasted and fragrant. Set aside to cool.
Whisk the oil into the apple cider vinegar. Add salt and cracked black pepper to taste. Set aside.
Combine the apples, cheese, chives, and walnuts in a salad bowl. Toss gently.
Divide and arrange the romaine lettuce onto 4 salad plates. Place the salad ingredients onto each plate. Drizzle each serving with the simple vinaigrette.
Garnish each serving with a lemon wedge.
¡Ole!