Ensalada De Judias Verdes
SueVM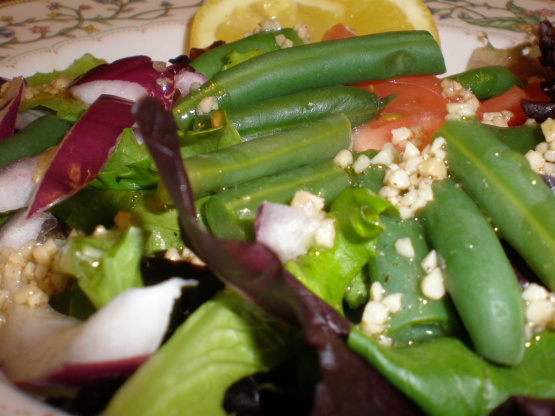 My rendition of a Spanish salad I enjoyed in Washington, DC last year in a restaurant/tapas' bar called Jaleo. Drizzled with a light vinaigrette, this salad should be served with crusty artisan bread and a glass of wine and a few slices of manchego cheese for a light, yet delicious meal! Prepare this recipe with the freshest organic or homegrown green beans you can obtain!

Top Review by SueVM
My DH and I really liked this salad. I did cook the green beans a little past al dente but everything married together really well. The dressing was spot on for us and so very tasty. Thanks momaphet for a lovely salad dish to our main meal. Made for the Dining Daredevils team for ZWT5.
Prepare the vinaigrette by whisking the ingredients together in a non-reactive bowl. Whisk well again before serving. Best prepared several hours in advance if possible.
Lightly blanch the green beans for about 3-4 minutes or until bright green. Immediately submerge in a bowl of ice water for a few minutes to lock in the color. Drain well.
Divide the frisee on 2 salad plates. Place half of the green beans on each plate, followed by half of the red onion and half the tomatoes.
Drizzle with the sherry vinaigrette. Garnish each serving with a lemon wedge.
Don't forget the crusty bread!
Note that all ingredients are estimated.