Ensalada Chilena (Chilean Salad)
Rita1652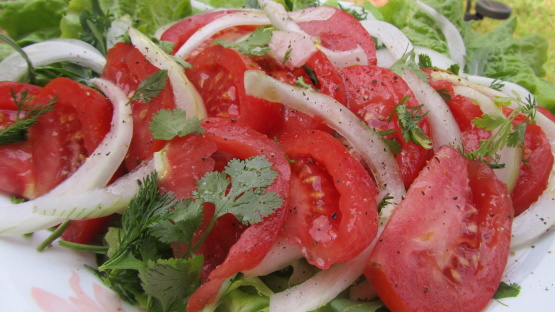 Recipe from a missionary who just returned from Chile. Very authentic tomato and onion salad that is slightly different from the other recipe on the site.
Top Review by Jo D.
This recipe for Ensalada Chilena is completely authentic. When you follow the instructions to squeeze the finely-sliced onions and mix with the peeled tomatoes, you get the juiciness that is typical. I squeeze my onions with the salt required for the recipe. It tastes exactly like what you get in Chile.
Cut onion in thin slices/strips like "feathers." Rinse the onion in a collander under running cold water for several minutes, firmly squeezing the onion to sweeten the onion and remove some of the strong taste.
Peel the tomatoes. Cut in thin wedges, similar in shape to the onion strips. Season to taste with remaining ingredients.