VickyJ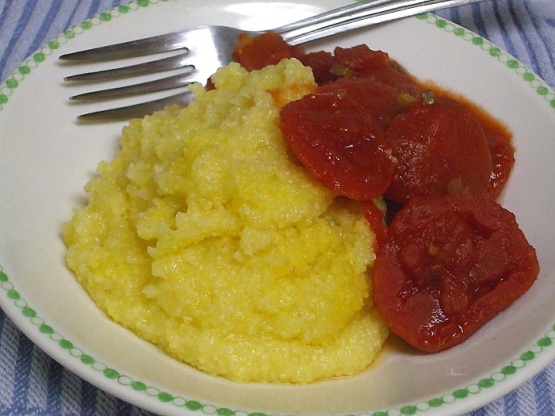 This easy recipe was on the back of a polenta bag. It seemed easy, and I loved that it was baked in the oven and not something I had to check constantly. I had this with regular, hot stewed tomatoes that I served along side. What a hearty meal! This would be a great side to almost any meat or vegetable dish. The recipe didn't call for garlic, but I added some garlic powder to mine. Oh, so tasty!
Preheat oven to 350°F.
Place ingredients in buttered 8-inch square pan.
Stir with fork until blended.
Bake uncovered for 50 minutes.
Run fork through it and bake 10 more minutes.
Serve with butter and Parmesan cheese, or with your favorite tomato, meal or vegetable sauce.