alligirl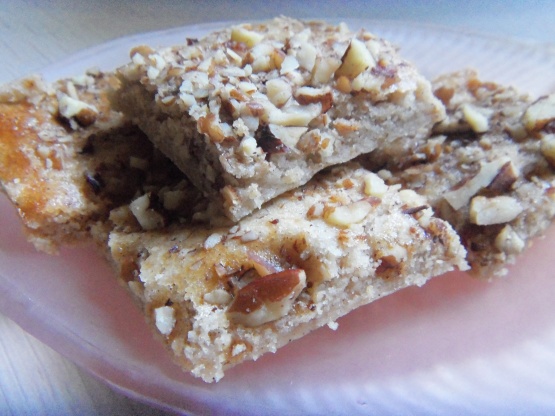 Posted for ZWT6 - Great Britain Region. I was reading about Christmas traditions in various countries and the website stated how popular English Toffee Squares were during the holidays in Great Britain. These sound so easy to prepare.

These were really easy to prepare, as stated in the intro, and they were pretty doggone tasty too! I *thought* that I would be able to spread with an off-set spatula...HA! After an unsuccessful 5 minutes, I gave up, and patted it out, almost like a pizza crust, filling in the corners, and leveling it out some. They baked for an hour, and looked perfect. I cut mine (with a pizza cutter) into about a 2-bite size, which yielded 48 ( 8 lines by 6 lines, if that makes sense.) Looks like I have a few extra, to share! Thanks for posting this simple, homey recipe, HokiesLady!
Preheat oven to 275°F In large bowl with an electric mixer, beat butter and sugar until creamy.
Separate egg, then beat yolk into butter mixture; cover and reserve the egg white.
In another bowl, stir together flour and cinnamon; add to butter mixture.
With your hands, spread dough evenly over bottom of a greased 10 by 15-inch rimmed baking pan.
Beat egg white lightly, then brush over dough to cover evenly.
Sprinkle pecans over top; press in lightly.
Bake for 1 hour or until firm when lightly touched. While still hot, cut into 1/2-inch squares. Let cool in pan on a rack. Store in an airtight container.