English Style Spiced Beef Stew
Haversac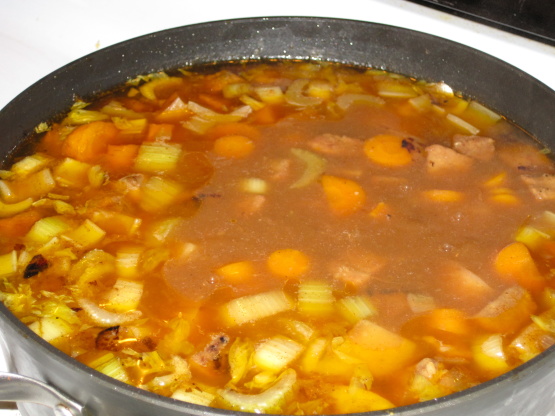 This is probably the best beef stew I've ever made. My recommendation would be to double or even triple it, this wasn't nearly enough! The broth is rich, yet not too thick. I did throw in the vegetables at the same time as the meat. It was delicious! Source: About.com

This was wonderful! My husband even raved about how good it was. We tripled the recipe and had enough for our family of four with some left over for lunch the next day. We cooked it for 4 hours, putting the veggies in half way through. I followed everything else per the recipe. My only suggestion is to not thicken too much. I lightly dusted the beef with flour before frying, and left the broth thinner. The broth is very bold and rich; over-thickening it will make it too heavy.

Thanks for the great recipe! We'll be making this one again.
Flour meat and brown in hot oil in a Dutch oven or stockpot. Add the water, bouillon, garlic, seasonings, sugar, lemon juice, Worcestershire sauce, and tomato juice. Cover and simmer stew for 2 hours. Add more water or broth if needed. Add vegetables and cook for 30 minutes longer.