English Roasted Brussels Sprouts in Cheese Sauce
Boomette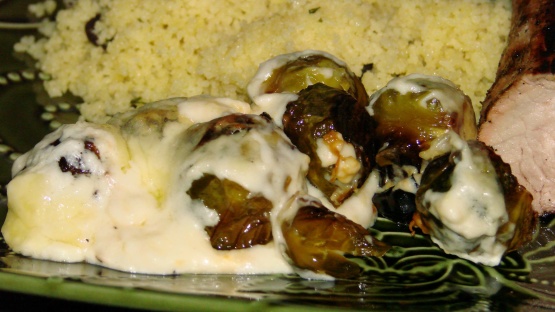 Brussels Sprouts sometimes get a bum wrap. If cooked correctly they have a lovely nutty flavor; Undercooking can make them bitter, overcooking makes them mushy. Roasting is a simple way to prepare them and gives them a nice crispy texture.
Toss brussels sprouts in oil and salt and pepper and roast in a single layer on a baking sheet at 400 degress for 30-45 minute Shake pan occasionaly so sprouts will brown evenly.
Turn oven down to 350 degrees.
Melt butter in a skillet, stir in flour and let it bubble for about 1 min., whisk in milk ( or half and half) bring to a boil, then reduce to medium low heat and simmer 3-4 minute
Remove from heat and stir in 1 cups grated cheese & season to taste with salt and pepper.
Butter a 1 1/2 quart casserole dish, sprinkle some of the bread crumbs on the bottom, add brussels sprouts, top with cheese sauce.
Sprinkle remaining 1/2 cup cheese and remaining breadcrumbs.
Bake uncovered 15-20 minute.