Derf2440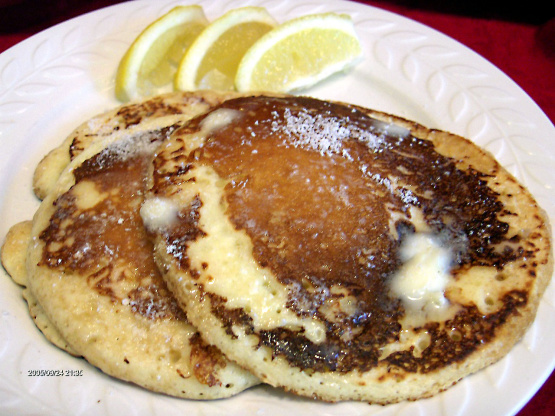 This is an old hand-me-down recipe & my boys eat them as fast as they come from the pan. They can be spread with jam if you like.

I made these pancakes for Pancake Day (a.k.a. Shrove Tuesday). I halved the recipe and got 7 pancakes out of it. I did not make any changes to the recipe, other than using skim milk. The pancakes turned out well. Like crepes, but a bit thicker. We enjoyed them.
Sift dry ingredients.
Lightly beat eggs into milk.
Add liquid ingredients to dry, mixing with wire whisk.
Cover & refrigerate over night.
Heat a small crepe pan, brush lightly with oil.
Add about 1/4 c batter to pan, tilt to cover the bottom-cook till top is just dry, flip gently & cook about 30 sec more.
Remove to plate; sprinkle with sugar, squeeze fresh lemon over top & roll up.
Repeat with remaining mix.
Quantity will depend on pan size & thickness.
Yield is approx 10-12.
Can be kept warm in a 250 degree oven until time to serve.