Peter J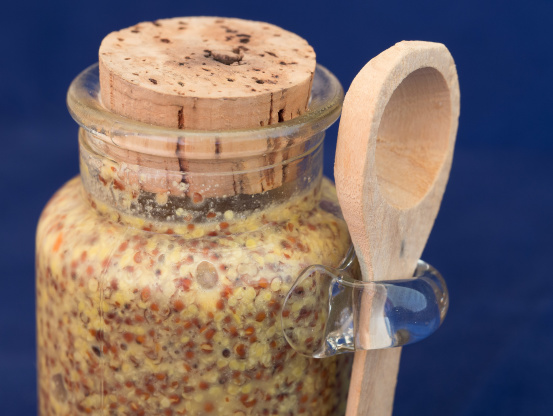 Homemade mustard is SO much better than store-bought. This is a spicy/hot mustard. Give it a try, it's very easy.

Top Review by Geema
It is definitely spicy and hot...but good! I took a little time and used my mortar and pestle to crack the brown mustard seeds. Otherwise, I followed the directions exactly. The mixture was indeed a little thin and watery, but as Evelyn promised, it turned into "mustard" after the 2nd day or so. We tested this first batch on a scrambled egg sandwich and enjoyed every bite!
4

tablespoons cracked brown mustard seeds

2

tablespoons mustard powder

1

teaspoon salt

3

small dried red peppers, of any variety (or 1 tablespoon dried cayenne pepper)
1⁄4 cup cold water
1⁄4 cup cold beer
In a glass or pottery bowl, blend the mustard seed, mustard powder and water.
Let stand for twenty minutes.
Add the remaining ingredients, then store in the refrigerator, covered, for 48 hours.
The mustard will seem watery at first but will'set'.
Do not jar the mustard for at least 2 days, to let the consistency stabilize.
Stir well.