English Hop Picker's Oast Cakes
Annacia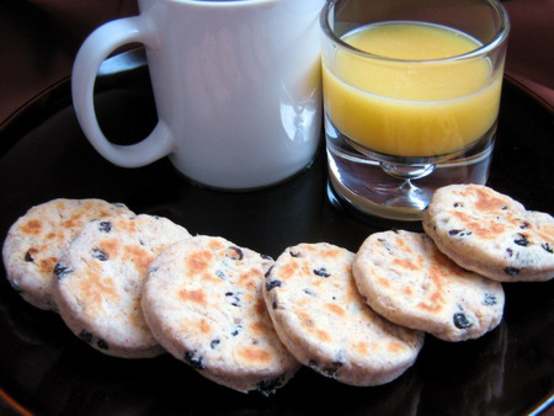 Oast Cakes were traditionally prepared by casual labourers as a quick but filling snack in the hop gardens of Kent, also known as the Garden of England. The hop pickers prepared the mixture earlier in the day, often with parsnip wine, then shallow fried the balls of dough in lard over the campfire during their afternoon break. Some people believe they taste better when deep fried. However, they are always best when eaten fresh and warm, and shallow frying is fine as well as being healthier!

These are delicious. I made then for a Saturday breakfast and they were just the thing. We found them very filling, 4 small cakes each for dh and myself (with coffee and orange juice) and we're all set till lunch. They take just mins to mix up, roll and cut. I used a griddle with a spray of Pam as I didn't want to fry them and that worked very well indeed for us. For the spice I used 1/2 a tsp of cinnamon. 1/4 tsp ginger and 1/4 tsp nutmeg . I was going to top mine with applesauce but found that they needed no embellishment at all. This is a keeper for sure. Made for Photo Tag.
Sift the flour and baking powder into a bowl.
Rub in the lard or butter until the mixture resembles breadcrumbs.
Add the sugar and currants before mixing in the lemon juice with the wine, sherry or beer until the dough is soft but not wet.
Roll out thinly and cut into rounds.
Shallow fry in a little oil until golden brown on both sides.
You may deep fry the balls if you wish, but you will probably need to drain them on kitchen paper.
Eat immediately.
For Vegetarian do not use Lard.