COOKGIRl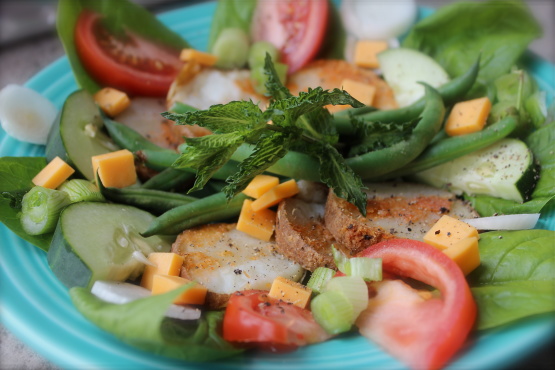 A lovely English salad from Great Britain! The mustard, honey and mayonnaise dressing makes it delicious!

This salad was served tonight as our main dish. It was easy to make, colorful, flavorful and it's healthy, too. Most of the ingredients were either from the farmer's market, our CSA box; the mint was from the garden; used small white onions with the green tops, Bandon medium cheddar cheese from Bandon, OR. I used a fresh heirloom tomato and the dressing was thinned with a few tablespoons of buttermilk. I had a leftover potato from last night's dinner and it made it that much quicker to prepare today. Served with Recipe #249216. Reviewed for Veg Tag/July.
Cook the potatoes 10 minutes in a large pan with enough water to cover; add the beans and cook 7 minutes more.
Remove to a large bowl.
Add the onions, cucumber, and half of the cheese and tomatoes to the potatoes and the beans and toss the salad.
Mix the mayonnaise, mustard and honey and pour over the salad.
Sprinkle with the remaining cheese and mint leaves. Add a little salt and pepper if you wish.
Serve and enjoy!