Nadia W.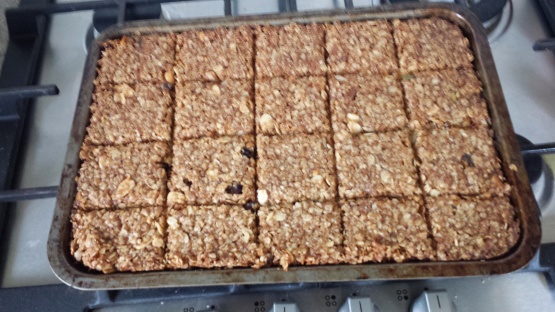 This is my recipe for Flapjack, inherited from my English mother. It doesn't have golden syrup in it, but you could try using 3 oz of Lyles with 3 oz brown sugar and seeing how it turns out. I'm sure it would work quite well.

This recipe is brilliant. I've made them both ways, either all brown sugar or 3oz Brown sugar and 3oz GS. I have found that cooking them for 45 minutes at 150C or 300F makes them stick together more. Could be the pan I use, but 300F x 45 minutes works for me!
Melt butter in saucepan over very gentle heat.Mix in the sugar, oats and salt.Stir well and turn mixture into greased swiss roll tin and press lightly together.
Smooth top surface with the back of a metal spoon and bake at 190C for 30-35 mins in centre of oven.
When golden brown remove from oven and allow to cool for a few minutes before cutting into square slices.
Cool completely before serving.