dojemi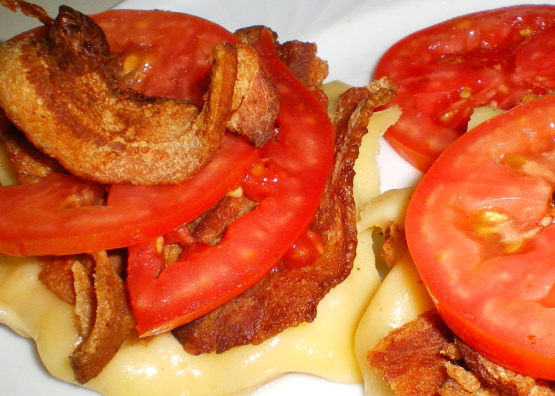 This recipe was served in a local restaurant and soon became one of our favorites to make at home. A fast and simple comfort food. I usually make it with American cheese but recently made it with Smoked Gouda and it melted beautifully and was TDF.
Cook bacon strips until 'very crispy' and break each strip in half.
Split english muffins in half and toast. (see note).
Top each muffin half with a slice of tomato.
Sprinkle with pepper (if desired).
Place two of the bacon 1/2's on top of each muffin half, in a criss-cross pattern.
Top each muffin half with a slice of cheese.
Place under broiler (watching carefully) just until cheese begins to melt and ooze over the bacon.
Remove from oven and enjoy!
Note: My DH prefers to have just a dab of butter spread over the english muffin after toasting. I prefer it sans butter.