PJ991092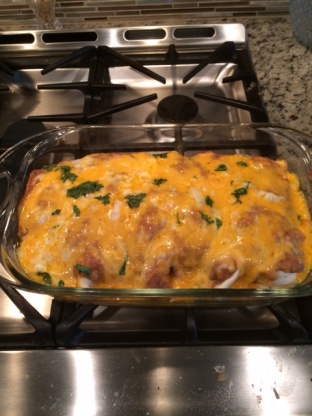 This rib sticking meal (or casserole) take off on a Mexican classic combines a burrito with all the sides into one incredible package. We've been eating this meal on a regular basis for the past 15 years. The next day left overs taste even better after the flavors mingle for a while. You can use any meat but we find pork stays the most moist through the process. Turkey was far too dry but you may have better luck.
Brown the meat and 2 of the onions. Drain. Add in jalapenos tomatoes and cilantro. Salt and pepper to taste. Set aside to cool.
Heat tortillas to soften (rub with water to make more pliable). Stuff with meat mixture and roll them up like a burrito making sure to close in both ends and put at the bottom of a casserole dish.
Warm the beans (add a couple of Tbl of water for easier spreading) and Spread the beans across the top of the rolled tortillas.
Top with shredded cheese then half the black olives and remaining cilantro.
Cook in oven at 400 degrees until cheese melts (about 10-15 minutes).
Serve with remaining onion, black olives, lettuce, and sour cream.