Enchiladas De Calabacitas Con Salsa Crema De Chile (Zucchini Enc
Prep 30 mins
Cook 20 mins

Another for ZWT II. I haven't tried this yet, but I'm always intrigued by veggie enchiladas of any form. Adapted from Mexican Cooking Made Easy.
Directions
CHILE CREAM SAUCE:.
Melt butter in a medium saucepan over low heat. Still cooking, add milk, salt and chicken broth. Gradually add flour, stirring until blended. Increase heat to medium. Add chiles. Cook, stirring, until sauce has a creamy texture (about 10 minutes). Makes 3 cups. Set aside to use for topping enchiladas.
ZUCCHINI ENCHILADAS:.
Preheat oven to 350ºF.
Spread 1/2 cup of warm chile cream sauce in the bottom of a 2-quart baking dish and set aside rest of sauce, keeping it warm.
In a bowl, mix shredded zucchini and 1 1/2 cups of the cheese. Set aside.
Warm tortillas so they are pliable (do this according to package directions, or use whatever method you prefer). One by one, dip warmed tortillas in the pan of remaining sauce and remove immediately (if allowed to sit in the sauce, the tortilla will start to dissolve). Move each dipped tortilla to the baking dish and put 1/6 of the reserved filling mixture in the center of the tortilla. Roll each tortilla and arrange in the baking dish, seam side down. Repeat until all the tortillas and filling are used up. Cover enchiladas with remaining sauce and 1/2 cup cheese. Bake for approximately 20 minutes at 350ºF, or until cheese is melted and sauce is bubbly. Remove from oven and top with chopped onion, crema/sour cream and cilantro, if using.
Reviews
Most Helpful
This was a "wow" for me too. I loved the cream sauce, although I did add a bit of finely minced fresh jalapeño to up the heat factor (personal preference). I used the onion, Mexican crema, and cilantro, as well. This is a great departure from typical enchiladas. Thanks for sharing. Made for Culinary Quest 2015 by a Toasted Tourist.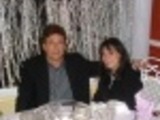 Wow, I loved this!!! It is a mild dish, I think I would probably add more chillies, but it certainly was delicious, I would definitely make this again. I'm not accustomed to making enchiladas so maybe I didnt really know what to expect, but, I certainly did enjoy it! thank you, made for QUEST TexMex

I filled the flour tortillas with Calabacita the way I make it, which is with corn, onion and tomato seasoned with Cumin and garlic then I added the cheese and rolled them up. This addition really made the flavor much better. They serve these at Sylvia's Enchilada Kitchen. Very tasty!!!