Rita1652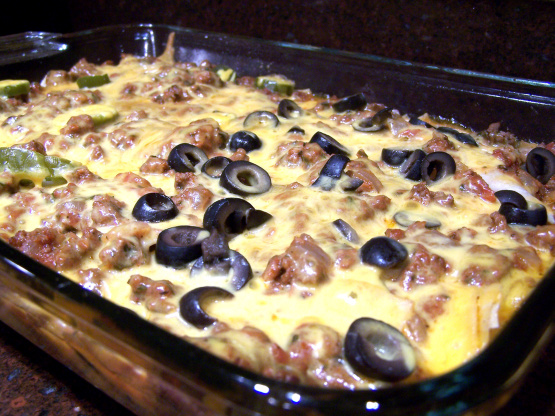 Posted in response to a request. A simple inexpensive family dinner with mild flavors. Note recipe makes 3 casseroles, 4-5 servings each, for freezing, but recipe is easily cut down for immediate cooking. From Frozen Assets by Deborah Taylor-Hough, a OAMC book.

Quick and Excellent recipe.Made for family and saved leftovers.It tasted even better when reheated.Thanks!Will definitely be making again.
Brown ground beef and onion; add seasonings and tomato sauce.
In 3 2-quart casserole dishes (I use 3 square foil pans for freezing), alternate layers of tortillas (can be cut into 1-inch pieces), meat sauce, olives and cheese.
Add 1/2 c water to each casserole. Cover tightly. Label and freeze. Thaw casserole completely.
Bake at 400 degrees for 20 minutes.