loof751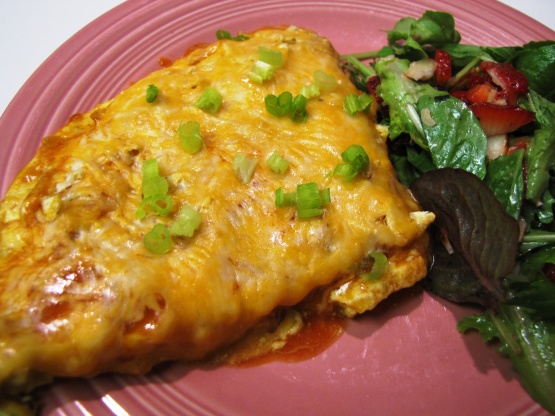 An open faced Mexican omelet. This looks so nice in the pan that I set the pan on the table and serve from the pan. And yes the cheese and sauce can make serving a little tricky.

This was really a great breakfast! I've never put hot sauce on my eggs, so this was a new experience for me. I'm happy to say that I had no trouble getting the omelet out of the pan, it slid right out onto a serving plate, and was just beautiful. The addition of the corn and chiles was very welcome- I rarely get vegetables with my breakfast, and this was a nice change. Made for ZWT7- Emerald City Shakers
Mix eggbeaters, corn and chiles in a large bowl till well blended.
Heat oil in a 11 inch nonstick skillet over medium heat. Add white part of green onions and garlic, cook stirring for 3 to 4 minutes until green onions are soft.
Add egg mixture, stir to mix. Reduce heat to medium-low, cover and cook 10 to 15 minutes or until egg are set on top.
Top with enchilada sauce, tortilla chips, cheese and green part of green onions.
Cover and cook about 1 minute or untill cheese is melted.
Uncover and let rest for 3-5 minutes.
Cut in wedges to serve.