NELady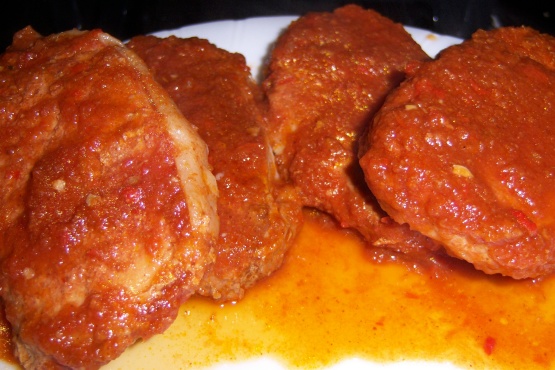 This is a very inexpensive, easy and quick recipe that I threw together when I was kind of in the mood for Tex-Mex, but totally in the mood for something a little spicy and different... and EASY. My family really liked it and I hope you do too. This recipe can easily be adapted to your family's taste.

We really liked these! There are so many possibilities! I used recipe#71916. I had more time to cook, so I simmered these on the stove (covered) for about an hour turning occasionally. I sauteed the onions and browned the pork chops before simmering. I served this over rice and black beans. This one is officially in the pork chop rotation! Made for Spring PAC 2009.
Lay pork chops in baking dish and cover with the enchilada sauce.
Bake uncovered at 350 for 20 minutes.
After 20 min with chops in the oven, turn them in the sauce and bake 10 more minutes.
Turn off the oven and remove baked and coated chops from the dish and place on a platter.
Cover with finely chopped onions and shredded cheese and put them back into the warm oven just to melt cheese.
Serve and enjoy.