lets.eat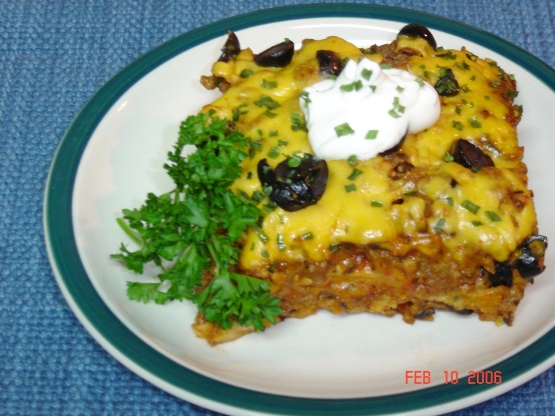 Fantastic! This one does not contain any cream of ..soups or corn. Slices nicely. I doubled Enchilada Sauce by Kimke for the enchilada sauce

This was sooo good. I did change the recipe a little, but the only thing that needed changing was that next time I will add a litte sauce to the bottom of the pan before putting the bottom layer of tortillas down and I used more sauce than called for. I will definately make this again...
Preheat oven to 375'. Grease a 11x7 baking pan place on a foil lined baking sheet and set aside.
In a skillet brown the ground beef, onion and garlic, drain the fat. Place back in the skillet and add the enchilada sauce and 1/4 cup of the black olives. Bring to a boil, cover and reduce heat to low stirring occasionally. Cook 5 minutes.
Layer 1/2 of the tortillas on the bottom of the prepared baking dish. Cover with 1/2 of the meat mixture, sprinkle with 1 cup of the cheese. Repeat layers; cover with foil sprayed with no-stick spray.
Bake for 20 minutes. Uncover and bake for an additional 5 minutes or until bubbly. Sprinkle with remaining black olives and sprinkle with chives. Let set 10 minutes before slicing.