twissis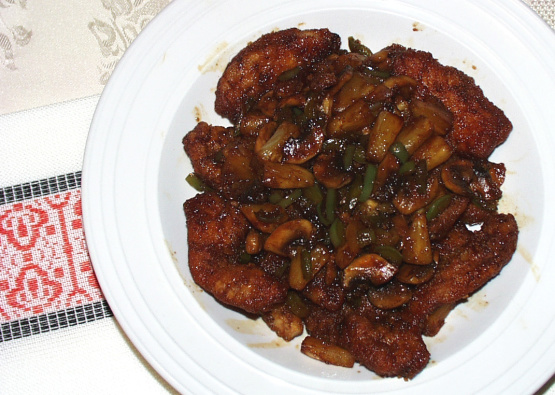 This is awesome. My friend brought this to me after both of my children were born. I absolutely love this dish. I have also made this using pork chops. This cooks slow. The chicken just falls apart. I have also made this on the stovetop. Serve over rice.

The recommended cooking time of up to two hours is much, much too long. I baked it for 30 minutes at 310 degrees, and it was adequately done throughout. I then added the pineapple and just baked for an additional 5 minutes to heat through. I didn't use cornstarch to coat the chicken but used flour, cornmeal, salt, and pepper instead. I also added 1/2 tablespoon of cornstarch to the sauce to thicken it a bit during baking.
Coat chicken with cornstarch.
Brown in large skillet.
Combine brown sugar, pineapple juice, vinegar and soy sauce.
Remove chicken from skillet and place in oven proof dish.
Place chicken in dish and pour sauce over the chicken.
Bake at 300° for 1 hour.
Add pineapple and green peppers.
Bake for an additional 30 minutes to 1 hour.